Art Classes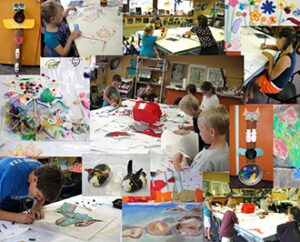 Classes are held at the Eccles Community Art Center in Ogden, Utah.
Sign up at
ogden4arts.org
Mondays
Fine Art I – ages 9-14, 4:00pm-5:30pm
Tuesdays
Fine Art I – ages 9-14, 4:00pm-5:30pm
Thursdays
Creative Minds – ages 6-8, 4:00pm-5:00pm
Fine Art I classes will go for 8 weeks $120 including all materials.
Creative Minds will go for 6 weeks $78 including all materials.
All classes are designed for all levels from beginners to advanced.
Class Descriptions
Little Hands / ages 2-5
(Accompanied by a parent or guardian) Children will learn Fine Art through visuals such as books, paintings, and storytelling. A hands-on experience that will jump-start your child's imagination into the world of art.
Creative Minds / ages 6-8
Children will learn the basics of Fine Art through various tools and mediums. We will explore different types of paper and mixed media to create one-of-a-kind art using your child's creative mind.
Fine Art 1 / ages 9-14
Express yourself with paints, pen & ink, charcoal, pastel, drawing, and mixed media. Learn about color, shape, line, texture, and composition to develop confidence in creating your own style.
– – – – – – – – – – – – – – – – – – – – – – – – – – – – – – – –
All classes are designed for all levels from beginners to advanced.
Pamela White Murphy
The Artist Palette Fine Art Studio
Syracuse, Utah
508-223-8558