About the Art Classes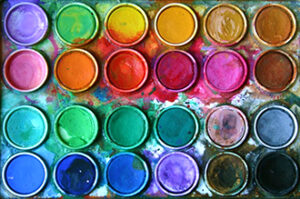 This program teaches children and young adults to have confidence in themselves, and enhance their art skills with their own ideas and
concepts.
Classes are designed for ages 2 to adult. A variety of techniques are taught as well as educating the child
in art history and storytelling. Many class hours are available for your convenience.
Curriculum
The Artist Palette is designed to guide and teach the basics of drawing, painting, and other fine
art mediums. All ages will be encouraged to find their own style and comfort levels.
Benefits
The Artist Palette teaches a student to recognize shapes, lines, forms, and color through basic
skills. They will learn about different artists as well as how to apply those techniques to their
own drawings and paintings.
Media
A variety of different mediums are used. We use Pen and ink, Charcoal, Pastel, Acrylic Paints, Watercolors, Colored Pencils, Markers, and Crayons along with a variety of paper. All materials are
combined or used separately to offer students experience in mixed media projects.
All materials are included with the classes.
Classes
A variety of art classes are offered at The Artist Palette Studio.
Little hands – ages 2-5
Creative Minds – ages 6-8
Fine Art I – ages 9-13
Fine Art II – ages 14-17
Studio Art – Adult
Private classes are also offered
The Artist Palette offers Therapeutic Art to ages 3 and up. Therapeutic art is dedicated to
individuals with a variety of learning disabilities and children on the Autistic Spectrum.
About Pamela
I have a B.A. in Art Therapy and in Fine Art from Anna Maria College. I am mostly a self-taught
artist with formal training at the Museum School of Fine Arts in Boston, the DeCordova Art Museum in Lincoln MA., the Boston Center for the Arts, and Anna Marie College in Paxton MA. I have studied with various artists through private lessons.
…. read more
Hours
For further information, questions, or obtaining a current schedule with times and fees, please email Pamela Murphy at pwmurphy@verizon.net or call at 508-223-8558
Registration
Please make checks payable to Pamela Murphy
Syracuse, Utah